March 2022
Privacy Policy
This policy applies to Sixty Eight People Ltd (company no.09291121) of Unit 1.04 Royal Mills, Ancoats, Manchester, England, M4 5BA
References in this policy to "we", "us" or "our" are references to Sixty Eight People Ltd
The purpose of this Privacy Policy is for us to inform you how we collect, use and disclose your personal data.
What We Do
Sixty Eight People Ltd provides:
Recruitment consultancy services placing candidates in




permanent positions within the hospitality industry.

Bespoke training solutions for the hospitality industry.



DATA

Unless we notify you otherwise, we operate as a data processor (agency or body which processes personal data on behalf of the controller) when collecting your personal data for our Recruitment and Training Services. If we share your personal data with our clients as part of our Recruitment or Training services, it is likely that our clients will process your personal data as a data controller. Our clients may request additional personal data from you as part of their hiring processes.

Unless we notify you otherwise, we are the data processor and our clients are the data controllers of your personal data processed by us for our Recruitment and Training services. As data processor, the privacy policy of our client will apply. Unless we notify you otherwise.

If you are uncertain about who the data controller of your personal data is, please contact us using the 'How to contact us' section of this policy. What personal data do we collect? Personal data is any information relating to an identified or identifiable person.
We will only collect personal data that we are permitted to collect by law. We have set out below a non-exhaustive list other types of personal data that we most commonly collect.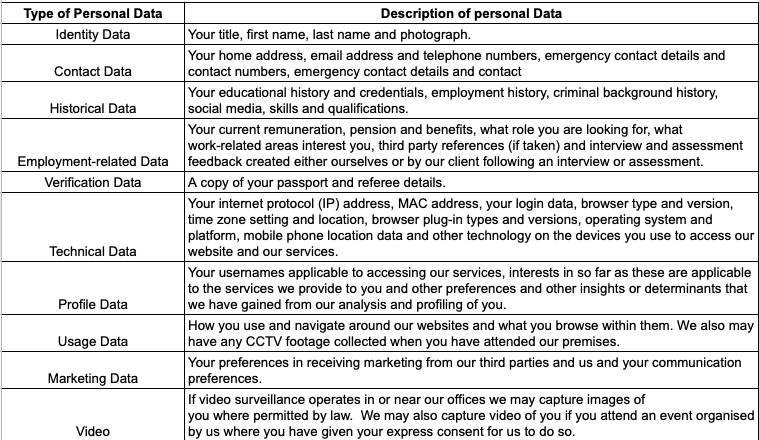 In respect of candidates and users of Sixty Eight People Ltd website, we also handle the following types of data:
Aggregated Data, such as statistical or demographic data for any purpose. Aggregated Data may be derived from your personal data but is not considered personal data in law as this data does not directly or indirectly reveal your




identity. For example, we may aggregate your usage data to calculate the percentage of users accessing a specific website feature. However, if we combine or connect Aggregated Data with your personal data so that it can directly or indirectly identify you, we treat the combined data as personal data which will be used in accordance with this privacy policy; and
Anonymised Data, which is data created from your personal data where your identity has been removed and you cannot be traced to it. We do not typically collect personal data relating to individuals under 18.
How we collect personal data
We generally collect your personal data directly from you. For example, we collect your personal data when you:
deal with us in person, by telephone, letter, email or via our websites;

register with us

submit any other information to us, such as a CV;

complete psychometric assessments or other assessments;

subscribe to job alert emails;

subscribe to our publications;

attend an event we have organised;

enter a competition, promotion or survey; and/or

give us feedback
We may also use the following third party channels to collect your personal data:
pre-employment screening and background checking organisations where permitted

our clients and their third party suppliers;

third party suppliers, including other recruitment and employment agencies, job board providers and job aggregators and our managed service providers who are within our supply chain;

other recruitment agencies;

analytics providers, such as Google Analytics and various job boards;

communication platforms, such as Adobe Marketo, Cison and PR.
We may also collect your personal data from publicly available sources where permitted, including:
Your identity and historical data from social media sites,




such as LinkedIn, Twitter, Instagram and Facebook;

your identity and contact data from company and commercial




registers or electoral registers; and

your identity, from qualification and membership lists of




professional bodies.
Cookies are small text data stored on your PC or mobile device and are created by the website's servers. We collect your personal data automatically via cookies when you visit Sixty Eight People Ltd website, in line with the cookies settings in your browser.
How we use personal data
We will only use your personal data when the law permits us to, and the uses set out below will be subject to that requirement.
Candidates
Your personal data will be collected and handled by us in order to:
provide careers, recruitment and/or related intermediary services to or for you;

match your details against job vacancies which we consider are appropriate for you in order to assess your suitability for them;

allow you to submit your CV, apply for specific jobs or to subscribe to our job alerts so that we can notify you when relevant job vacancies arise;

apply for jobs on your behalf by sending your personal data to clients;

facilitate the recruitment process if a client wishes to progress your application;

fulfil our contractual obligations to our clients;

inform you about any relevant industry developments, events, promotions and competitions, and to communicate any other relevant information;

answer your enquiries or questions;

conduct statistical analysis;

comply with our regulatory commitments;

pursue or defend a legal claim;

conduct pre-employment screening

provide you with further information which may be of interest to you in regard to the employment market and opportunities.
Website users
Your personal data will be collected and handled by us in order to:
improve our customer service and make the way we operate more useful to you (which includes tailoring our websites to suit your requirements);

let you know about our recruitment services across all areasof our business;

send you communications where you have indicated you are happy to receive such information or have purchased products or services from us, which may include the following:

E-newsletters and hard copy newsletters;

Emails about the services we offer and new product launches;

Reminders when your products or services may be due for renewal; and

Opportunities to participate in market research.
Depending on the contact preferences you select, we will communicate with you by post, telephone, SMS, email or other electronic means such as via social and digital media. We may use your usage data to help ensure that this messaging is personalised and relevant to you.
Referees
We will use your personal data purely for the purpose of conducting a reference check on a candidate.
Who your personal data is shared with
We may disclose your personal data to:
prospective employers or engagers;

other recruitment companies or intermediaries involved in managing the supply of personnel;

data processors of Sixty Eight People Ltd

pre-employment screening and background checking organisations;

your referees;

your past employers and relevant education institutions;

your professional bodies;

third party suppliers, including other recruitment and employment agencies, job board providers and job aggregators and our managed service providers who are within our supply chain; and

third parties to whom we may choose to sell, transfer, or merge parts of our business or our assets. Alternatively, we may seek to acquire other businesses or merge with them. If a change happens to our business structure, any new owners may use your personal data in the same way as set out in this policy.
We do not allow our third-party service providers to use your personal data for their own purposes and only permit them to process your personal data for specified purposes and in accordance with our instructions, which includes compliance with this policy.
Retention
We will only retain your personal data for as long as necessary to fulfil the purposes we collected it for, including for the purposes of satisfying any legal or reporting requirements. We view our relationship with you as being one which is to support your career and secure permanent employment.
We will appropriately and securely dispose of your personal data when it is no longer required.  To determine the appropriate retention period for personal data, we will consider the following factors:
amount and nature of the personal data;

its sensitivity;

the potential risk of harm from unauthorised use or disclosure of the personal data;

the purposes for which we handle your personal data;

whether we can achieve those purposes through other means; and

applicable legal requirements
We act as a data processor to our clients, the data controllers, we will retain your personal data in accordance with the retention periods prescribed by our clients.
Your rights 
These may include:
Right Description of Right

Right of access to your personal data and to obtain information about how we handle and process it;

Right to have inaccuracies corrected if your personal data is inaccurate, including to have incomplete personal data completed;

Right of erasure of your personal data, which is also known as the "right to be forgotten". We do not delete personal data from our back-up files that are created for disaster recovery purposes and are not easily accessible;

Right to restrict handling and processing  of your personal data, which includes requesting us to suppress your personal data file;

Right to move, copy or transfer your personal data to another organisation, also known as "data portability";

Right to object to the handling and processing of your personal data for certain purposes, in particular to personal data processed for direct marketing purposes and to personal data that is handled and processed for certain reasons based on our legitimate interests;

Right to withdraw consent or permission that you have previously provided to us in relation to our handling and processing of your personal data, such as for the purposes of marketing by electronic means;

Rights in relation to automated decision making where such automated decision making has a legal effect on you or otherwise significantly affects you; and

Right to complain to us in relation to the handling of your personal data; or the regulatory body which enforces data protection law in your locality.
Please contact us using our contact details set out in the 'How to contact us' section of this policy if you wish to exercise any of your legal rights.
Where permitted by law, you may be charged a fee to access your personal data or to exercise any other right that may apply. We will let you know if a fee applies to your request before we complete it. We may also request certain information to help us confirm your identity, ensure your right to exercise any of rights in the table above and to prevent your personal data being disclosed to any person who has no right to receive it.  We will respond to all legitimate requests within any legal timeframes.
Technology
We will always use your personal data fairly. We may on occasion use technological filters to sort through the job applications we receive and to match candidates to specific job vacancies. If we have used technological tools to a significant extent when assessing your job application, we will inform you of this. Please let us know when we contact you if you feel there are other factors that we should consider as part of your job application.
Data security
We hold your personal data in a combination of secure computer storage facilities and paper-based files.
We have in place an appropriate level of security around your personal data, including protection against unauthorised or unlawful processing and against accidental loss, destruction or damage to it. We have implemented appropriate technical and organisational measures to ensure a level of security appropriate to the risk of harm that might result from unauthorised or unlawful processing, accidental or unlawful loss, destruction or alteration, unauthorised (or disclosure of) access or damage to your personal data including:
locks and security systems;

encryption

usernames and passwords;

virus checking;

auditing procedures and regular data integrity checks; and

recording of file movements
We limit access to your personal data to those employees, agents, contractors and other third parties who have a business need to know. They must only process your personal data on our instructions and subject to the access controls listed above. They are also subject to a duty of confidentiality.
We have agreed on security-related measures with the third parties we share your personal data with to ensure that it is treated by those third parties in a way that is consistent with how we safeguard your personal data.
We have also put in place procedures to deal with any suspected personal data breach and will notify you and any applicable supervisory authority where we are legally required to do so.
If you suspect any misuse, loss of or unauthorised access to your personal data, please contact us immediately using our contact details in the 'how to contact us' section of this policy.
Changes to this policy
We reserve the right to change this policy from time to time. Changes will be notified on our website seven days before taking effect. We may make emergency changes to this policy when we believe it is reasonable to do so e.g. to comply with legal or regulatory requirements.
How to contact us
If you have questions or comments about our privacy practices, or if you would like to submit a request exercising your privacy rights, please contact us. You can:
Contact our Data Protection Officer (DPO):
Charlotte Kemp
charlotte@sixtyeightpeople.com